We're no longer on the eve of an environmental disaster. This is the day of environmental disaster. As reports flood in that oil has already reached the shores of Louisiana, many of us are asking, "Why?" Others are asking, "How?" And finally, Republicans are asking, "So what?"
Well, that last one isn't exactly true. Or fair. But Republicans have done the equivalent of turning their heads in the air, looking around, and asking, "Hmm? What? Did you say something?". They're ignoring what's going on around us. That is, except Bobby Jindal, who yesterday declared a state of emergency for Louisiana, asking the National Guard to be mobilized. And, of course, except for Charlie Crist..who has now taken a serious look at his position on drilling. But don't worry folks, these guys won't be Republicans for long. They're obviously too sensible and moderate to appeal to the newly rabid core constituency.
Obama, a latecomer to possibility of offshore oil exploration has taken any consideration of expansion off the table for now,and rightly so. .
Let's face it folks, this one's looking to be a shitter. You know, 20 years ago or so when the Exxon Valdez crashed, it was an ecological disaster. That it happened in Alaska, in the nation's backyard, might have reduced its impact to Americans in the continental US. After all, some people might say, "Eh, Alaska. That's practically Russia!".
Basically, some version of group amnesia has bandied about for a while now, as the delirious fumes of "Drill, Baby, Drill!" chants fumed Republican and tea bagger rallies since 2008.
But even as of today, there are reports that the oil has reached the mighty Mississippi River. Can the oil spill affect the river going Northbound into the Midwest? I sure as hell hope not. But that's what we're faced with now. Already a "pungent fuel smell" can be inhaled as far north as New Orleans. Just what those guys need. Another environmental catastrophe.
As it is, even with oil amounts of far less than the Valdez spill, the Gulf is a much more area, environmentally speaking. Marshlands in the gulf protect numerous specious of animals, many that are threatened or endangered. According to CBS news, Jindal said there were 10 wildlife areas or refuges in Louisiana and Mississippi in the oil plume's path. Shrimp season was allowed to start early to allow shrimpers to try to salvage some catch.
Some of the protected species at risk include North Atlantic BlueFin Tuna, Sea Turtles, sharks, dolphins, whales, Imagine the effect on fishing, shipping, and recreational travel in and along the Gulf. It's clearly bad, and potentially devastating.
The head of Florida's EPA was also quoted saying that it may be two or three months before the discharge of oil from the underground well can be stopped.
in all this, we shouldn't forget that 11 lives were lost. Offshore drilling on these platforms can't be the easiest or safest work. i hope that this, like mine safety, gets a very close look.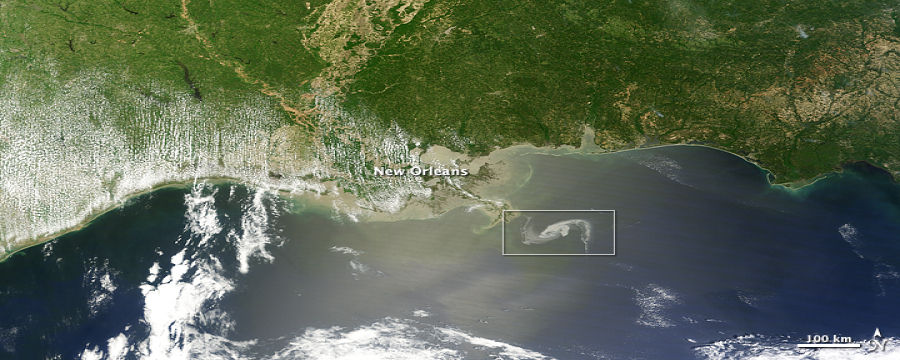 This site uses Facebook comments to make it easier for you to contribute. If you see a comment you would like to flag for spam or abuse, click the "x" in the upper right of it. By posting, you agree to our Terms of Use.